Reader's note: there are some graphic sections in this post.
Background
My dad, Colonel Jonathan Ball (US Army RET.), was a reserve sheriff's deputy with the St. Tammany Parish Sheriff's Department in the early 90's and volunteered his time with the sheriff's department for about seven years. We had many family friends who were full time sheriff's deputies during this time, close enough that we would call them uncle and grandpa such as "(Deputy) Uncle Way" and others.
As a kid, my dad would bring home his white marked patrol car. I still remember it: white car, red lettering on the side, sitting in the drive way all cleaned up and shining bright. I would climb in the front seat and talk on the PA/siren system as the neighborhood kids would speed by on their bikes playing the game of "car chase". Then I'd jump in the back seat and play the role of "robber" while the neighborhood kids would turn on the lights with their parents hanging out with my parents in the street.
When I was 9, during the flood of May in 1995, I remember going out with my mom and sister to see my dad as he rode in a law enforcement deuce-and-a-half rescuing residents from houses as flood waters rose. During a period of rest, I remember climbing up in the truck and hanging out with other deputies before they went back out on another round of rescues. I also remember going to the fair on Robert Blvd and football games while he was out working details. All the while serving in the sheriff's reserves, he was a full-time soldier with the US Army. Not only a soldier but a citizen law enforcement officer. These interactions would have a lasting impact on me. Dedication to duty, devotion to service, integrity and honesty as one of the highest standards one could hold themselves to, and other core tenants of being a good individual still sticks with me today.
Katrina
Fast forward 10 years and in August of 2005 Hurricane Katrina rocked the US gulf coast. I was a volunteer fire fighter with St. Tammany Fire Protection District 11 in Pearl River, Louisiana and I was also a member of the Northshore Composite Squadron with the Civil Air Patrol. I had just started college a few weeks earlier when Katrina hit. I evacuated with my (future) wife and her family to Florida. My dad had to stay in New Orleans at City Hall to handle emergency operations. We didn't hear from him for two weeks until we saw him on CNN during an interview with Louisiana's governor.
A few weeks went by before my (future) father-in-law and some family friends trekked back through the debris-strewn gulf coast. Mississippi looked like a bomb had fallen on it. Cars were following fuel trucks for miles and I remember refilling our vehicles using fuel cans we were carrying with us standing armed with a shotgun and pistol to keep people away that were eyeing our fuel. It's one thing to watch a post-apocalyptic show like The Walking Dead but it is an absolute terror to live in a post-apocalyptic world where people are literally fighting other people for fuel and food. As an impressionable nineteen-year-old I vowed to never let myself or my (future) family succumb to the animalistic behavior that I witnessed in the aftermath of Hurricane Katrina. (A quick aside: It was at this point that I realized that law enforcement cannot be everywhere, all the time. Matter of fact, I couldn't find police, fire, or EMS anywhere on our travel back. It literally was a law-enforcement-less land. Absolute chaos. I realized that individuals are the protectors of themselves. Law enforcement protects the weak and lame and enforces the law of the country and jurisdiction that they are sworn to protect. But when law enforcement is not available, it is up to the competent and prudent citizen to protect those who cannot protect themselves. Soapbox for another time.)
I split from the group and headed to North Louisiana to meet up with my mom and sister. I stayed with them for a few weeks before I left to head down to Slidell. My grandpa sent me packing with a handgun and shotgun so that I could protect myself as I traveled. I really wanted to be involved in the cleanup and rebuilding of the New Orleans metro area: it's where my family evacuated from and where we were raised. I also had a nagging desire to help those who couldn't help themselves. Those many years of watching my dad help the helpless were driving me to do the same.
Once the flood waters started to recede, the massive cleanup operation started. I worked out of First Baptist Church of Slidell. I was providing information technology and communication support to FBC. Through the help of other organizations, we were able to get communications up and running at FBC Slidell faster than anybody else in the area and probably the region. FBC Slidell was also located in a geographically strategic location. FBC Slidell had a lot of land, it had very large facilities, it had a full kitchen, it was located near the Highway 11 bridge (which survived Katrina) and the Twin Spans (which portions of it sank like a rock making Highway 11 the only usable link from the North Shore to New Orleans), and it was a member of the Southern Baptist Convention and recipient of the Louisiana Baptist Convention Disaster Relief program. FBC Slidell was soon turned into a staging area for FEMA, the National Guard, the American Red Cross, the Louisiana Baptist Convention Disaster Relief Program, Loads of Hope (Tide) Disaster Relief Program, Louisiana DCFS operations area for DSNAP signup, supplies staging area for various government agencies heading into and out of New Orleans, a place to connect to the internet and chat with concerned family members, and the list goes on…
Post Katrina
Have you ever seen the ENTIRE City of New Orleans pitch black? Where you can see stars just as clear as if you were in the wilderness? Have you ever called 9-1-1 and got a recorded message stating that emergency services were unavailable? Have you ever stood on I-10, looked in both directions, and not seen a single moving vehicle or other person? At all? I have. It's surreal.
Two years later and the region had recovered to the point that life was returning (not necessarily to normal but returning). I was engaged to my first girlfriend and evacuation buddy, Lauren Singletary, who was attending Leavell College at NOBTS.
One day, while I was working as a campus police officer for the New Orleans Baptist Seminary, my partner Lieutenant Brad Robertson (of whom I still communicate with to this day), and I were working a normal shift. I was working the front gate and Brad responded to a robbery (it came across as an armed robbery) call at the Lifeway bookstore near the William Carey extension campus in the Harden Student center. The thieves were fleeing and Brad was yelling on the radio to stop their vehicle. I exited the guard shack and, standing in the road, observed a vehicle speeding through the parking lot. Not knowing the extent of what just occurred but still hearing Brad yelling to stop the car, I drew my firearm and squared off on the driver of the vehicle. I began squeezing the trigger of my Glock about to put some rounds in the driver who is now driving on the wrong side of the road directly towards me. The vehicle is only a few yards away from running me over when I heard a voice in my head say "jump" and so I did. I jumped to the side of the road where the car grazed my left leg. I never fired my weapon. This was my first real encounter with the dangers of law enforcement.
A few months later, in February of 2008, I was approached by a member of the investigative squad of the New Orleans Police Department's Internal Affairs unit. I was told that the New Orleans Police Department was hiring officers and that I should consider applying. I applied and in March of 2008 I started at the NOPD Academy. I graduated in August of 2008 right at the onset of Hurricane Gustav. Graduation finished, leave was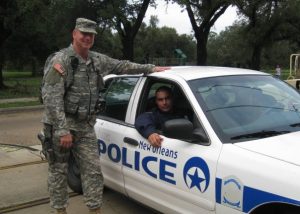 cancelled, and I was sent to the NOPD's Second District to report for Hurricane Duty. My dad, once again, deployed to New Orleans to provide military assistance to the NOPD. Being the computer nerd that I am, I was able to raise him on military frequencies on my NOPD-issued radio (my FTO thought that it was cool that I was able to talk to the military on our police radio). We met up on St. Charles Ave near Loyola University. Here I am, serving the citizens of New Orleans, living out the dream of protecting the weak, and my dad, the example of dedication and loyalty, protecting right alongside of me. Gustav came and went and the cleanup began. The end of 2008 came and I married my fiancé, Lauren.
2010 came and I was promoted into the NOPD 8th district's Violent Crimes Investigation Unit (personal crimes). I was part of a five-person team responsible for investigating any shooting, stabbing, robbery, or persons crime (that didn't result in a homicide) in New Orleans' French Quarter and CBD/Downtown Development District. I really learned the ropes of the detective life. Looking back, this was the most fun I had in the NOPD. I really enjoyed investigating Violent Crimes.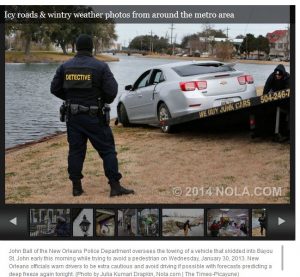 2012 came and I moved into the Digital Forensics Unit. That was difficult. While I enjoyed the connections that I made with Homeland Security, the FBI, the USSS, the USMS, and our counterparts at the JPSO/LSP FUSION center, there was a downside. (An aside: cool story, I worked directly with the FBI during Superbowl XLVII. I assisted the FBI and JTTF in investigating a potential terrorism incident. Some of the happiest moments are knowing that I was a part of a team that investigated and prevented any terrorism during the Superbowl.)
But where there be sunshine there be storm clouds. There was some gruesome work involved. The hardest part of working in DFU was investigating child pornography. The largest case I ever assisted on involved a perpetrator that lived only a few blocks away from where my wife, two kids, and I lived. Having to evidence, catalog, and review hours of child porn really screws with your emotions. But, once again, here is my ability to protect the weak and innocent at its darkest, and finest, hour.
Virginia
I left NOPD in July of 2014 to live the civilian life eventually moving to Virginia and leaving the NOPD behind me as a closed chapter in my book. (By the way, I've been out of the NOPD for five years but I still get phone calls from detectives and officers asking me if I can meet them at NOPD headquarters to assist with processing digital evidence. Apparently, word of my departure travels slowly in New Orleans… just like the lifestyle. It's why they call it "The Big Easy". )
2016 came along and I've been out of law enforcement for two years. You know what happens when you have a skill set that you aren't using but you really want to use it? It nags at you. I started looking for reserve opportunities. 2017 came and I applied with the Louisa Police Department's reserve unit.
And I waited.
And I followed up.
And I followed up again.
And I requested my training from the State of Louisiana just in case Louisa PD called me.
And I waited.
And finally I nagged the mayor's daughter to the point that something happened and I got a phone call for an interview with the Louisa Police Department.
In February of 2018 I was sworn in as a law enforcement officer to uphold the law of the Commonwealth of Virginia and municipal code of the Town of Louisa. I went through the FTO program with the Town and really hit the street running full speed around October of 2018. I, personally, am thankful for the friends and family I've grown into in the Louisa Police Department and the counterparts and connections I've made at the Louisa County Sheriff's Office.
Sacrifices
All this background context to put the next few points into perspective.
It was difficult getting paid $42,000 a year salary as a patrol officer dealing with society's problems and people at their lowest point in life. Trying to raise a family and maintain a relationship with my wife (who I probably would have lost had I still been full time with NOPD) was not easy. The stresses of having to work overtime and paid details, plus the stresses of the daily job, really took a toll on my relationship with my wife and family. With social media and the news media portraying cops as savage, lawless animals amplifying micro-problems into nation-wide debates never helped either. Social media and the news media have never seen lawlessness and helplessness like I have.
How do you explain to your family that you've just spent eight hours reviewing child porn? Watching a male perpetrator perform sexual acts on an underage female? Can you image what that does to your intimate life with your spouse? As a law enforcement officer, you can relate. The majority of civilians have no clue.
How you do you explain to your family the bloated body you found in the bedroom of a house because the person died two weeks prior and you've been dispatched to a scene to investigate a "weird smell" that the neighbors are reporting? You can't. Most civilians have no idea.
How do you tell your friends about the call you went on to assist Child Protection Services with a domestic incident in which a two-year-old is literally living in feces in a house full of flies? Those flies are all over the child and now you. The kid covered in feces crying wanting somebody to hold them and love them. As a law enforcement officer, you can relate. Most civilians would struggle to understand.
How do you convey the story to your family that you stopped on your way home from work, passing two dozen cars waiting in a line because there is a car crash ahead, all of the drivers pissed because their evening commute home is now delayed? Playing on their phones or listening to their music not doing a damn thing to help. No emergency services on scene. You're the second responder on scene because another volunteer happened to drive against the flow of traffic to help out. One minute your calming the driver of a vehicle pinned in the car while she struggles to tell you her name and what happened. In the next few minutes she will die. Her family never having the opportunity to tell mom and grandma goodbye. I was literally just holding her arm and talking to her. You can't convey these emotions to a civilian. Law enforcement understands completely.
Perception
When I told my friends I was getting back into law enforcement as a reserve officer they of course had the ragging and normal "rent-a-cop" comments. I just chuckled and brushed it off and frankly, early on in my law enforcement career, I never fully appreciated the reserve officers. Now that I toe the line, I fully appreciate it.
We see the same horrific and graphic car accidents and suicide calls for service as the full-time officers. Yet we volunteer to see and work these calls spending our valuable time which could otherwise be spent with our wives, husbands, or children to assist our full-time professional brothers and sisters (and sometimes even be primary units when our professional brothers and sisters are unavailable).
Our families sacrifice time with mom or dad so that mom and dad can volunteer and help enforce the laws of our country and protect the weak and lame from the evil doers.
We voluntarily put our lives in harm's way. Bullets don't hurt the full-time officers any more or any less than they do the reserve officers. Especially in a day in which there is a nationwide shortage of law enforcement officers. I can't blame them. Who the hell wants to get paid to get shot at, spit on, punched, and kicked? You'd have to be twice as crazy to volunteer to get shot at, spit on, punched, and kicked. Yet our full-time officers and reserve officers do this day in and night out.
A civilian will never understand the meaning of "rent-a-cop" yet a full time officer can rest easier on a traffic stop when a reserve officer pulls up behind them to provide backup and support for which backup would otherwise be unavailable due to manpower shortages and calls for service backlog.
I have the highest respect for our full-time military and law enforcement.
I respect even more the citizen soldier: the civilian who goes above and beyond to protect our nation.
But I give the utmost respect to the citizen law enforcement officer: the civilian who goes above and beyond day in and week out to deal with society's problems while maintaining a separate full-time life with full-time demands elsewhere. All the while knowing that they are one traffic stop, one domestic violence call, one bullet away from ending all of that.
We, and our families, sacrifice for no pay, no expectation of thanks, and no attaboy at the end of the day. We do this because we love to protect our brothers and sisters in arms, to protect the weak and helpless, and to uphold the laws of our amazing country and the Commonwealth just for the personal satisfaction gained from a moment of selflessness.
This is why I joined the Police Reserves.