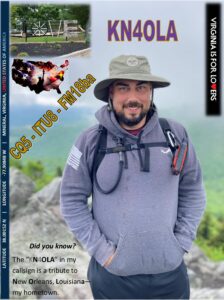 I started this site around December of 2006 as a suggestion from a college professor. Today www.johndball.com is a hub for my thoughts and "how-to" guides.
I maintain this site as a personal reference point for many of my projects hence the original tagline "Dumping ground for thoughts I'll need a year from now."  I changed this tagline to "You can't get infected if you can't get connected" – a phrase I say whenever somebody complains that they can't download malicious payloads from shady sites. The latest tagline, "Bytes of Helpful Information", is a play on the word "bites" and is an accurate reflection of what this site has become: a place of helpful information that I've posted or referenced for various reasons and purposes allowing me to share what I've found to be helpful with the rest of the world.
Occasionally you'll find hiking, backpacking, or overlanding references on this site – my wife and I, as well as our family, often travel across the country and we stay on state parks and lands, federal lands (Forest Service and Bureau of Land Management), and National Wilderness lands. I am a Leave No Trace-certified Trainer and She and I are both Outdoor Activity Coordinators with Cub Scout Pack 183 and BSA Troops 3 and 1003 in Louisa, VA. Resources that I find helpful during our weekly and monthly treks, as well as resources used with Scouts BSA, I will post here for others to use.
If you're "on the air", you'll be delighted to know that I'm an Amateur General license holder – KN4OLA. I run an ICOM IC-7300 remotely so I can make those HF contacts on the road and anywhere I have an internet connection. I have taken amateur radio to scouting and general RF communications to global faith-based NGOs in support of both hobby communications and mission operations. If you think you have a need for a communication integration in your mission, give me a ping. I'd be happy to help. If I can't help, I know people who can. Looking for something more "simple" and local? Put out a CQ (or three) on 2m and 70cm, I'm bound to be listening.
#GeauxOutdoors #RollingWithTheBalls
~Mr. John Ball