I've run into this bug when setting up a Gmail account on an Apple Watch if the Gmail account has an alias associated with it. Since I only have Google Apps for Business, I'm not sure if this impacts Gmail-free users/non-business users. I've not been able to find much information on this, actually none at all except a similar, but not exact, issue for a user on iOS 14. I'm running iOS 16.1.1 and WatchOS 9.1 on Apple Watch Series 7 45mm.
As a Google Apps for Business user, I have multiple domains in my Gapps account. These domains create aliases for my users so SomeUser@SomeDomain1.com can receive email at SomeUser@SomeDomain2.com and SomeUser@SomeDomain3.com, etc. Let's say that the primary domain is SomeDomain1.com and the tertiary domain is SomeDomain3.com. My Google Apps user is assigned to the primary domain so their primary email is SomeUser@SomeDomain1.com. This is the exact email that they log in with and all credentials are associated with this primary account.
Now, I have an Alternate Email assigned to this user that is not part of one of my domains. For example, SomeUser@SomeDomain1.com has an alias of Finance@SomeDomain1.com, Legal@SomeDomain1.com, Booking@SomeDomain1.com, etc. You can read more about alternate emails here: https://support.google.com/a/answer/12265327?visit_id=638048178056324159-2113494795&p=overview-accounts-and-alias&rd=1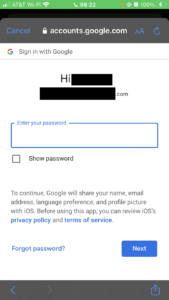 When adding a Gmail account to my Apple Watch, again SomeUser@SomeDomain1.com, and the account has alternate emails, the account gets added to my Apple Watch as SomeUser@SomeDomain3.com and then errors out saying the credentials are missing and that I need to sign in. Well, they aren't missing because I just added the account successfully.
To further complicate matters and add to the confusion, the second screenshot indicates that sign in is required. If I try to sign in, the account listed on the Apple Watch is SomeUser@SomeDomain3.com. Since this is not the user's primary domain, sign in will continuously fail.
How do you fix this? Sign in to your Google Apps Admin console and find the offending user. Navigate to to the Alternate email addresses section, note their alternate emails, and remove every alternate email address. Save your changes. You do not need to remove alternate domain emails. Apple Watch doesn't care about those even though @SomeDomain3.com is an alternate domain.
Go back to your Apple Watch and delete the Gmail account you added then add the account again. This time the account should be added without issue.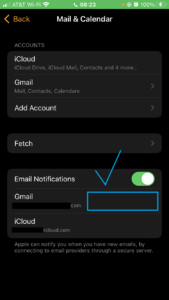 Navigate back to your Google Apps for Admin console and add the alternate emails back in. Save changes and voila!