(Originally posted 14 July 2022)
Update 23 August 2023 – LCPS enrolled students qualify under the USDA CEP. You will need a letter from your student's school confirming that they are enrolled for the 2022-2023 school year. With that letter, you can complete the validation process described further down in this post. Yay! Go #TeamLCPS
If you are in the Louisa County Public School district, skip down to #2. If you are not in a Louisa County Public School, verify that your school or district is listed here: https://www.doe.virginia.gov/programs-services/school-operations-support-services/school-nutrition/program-statistics-reports.

There are a few links to choose from. I chose the "By School Division" option. Within that Excel spreadsheet are two notes listed as "CEP Note 1" and "CEP Note 2". CEP Note 1 indicates that your entire district is eligible for the USDA CEP.

Apply for the Affordable Connectivity Program (ACP) here: https://getinternet.gov/apply
Email LCPS administrator "coxda@lcps.k12.va.us" requesting a letter stating that your child was enrolled in a LCPS USDA CEP school for the 2023-2024 school year. This is only for Louisa County Public Schools in Virginia. If you are in a different school district, contact your school administrator. Do not use the email address above if you do not reside in Louisa County, VA.

My letter snippet is attached. DO NOT USE MINE. You have to request your own as this is logged with the school system.

Provide that letter as proof of your eligibility in the ACP program to the ACP team when requested.
Sign up with an internet service provider or re-apply with your current internet service provider to receive a reduced broadband bill.
For renewals: you will receive a letter in the mail and/or an email. Simply call the number on the letter or email, provide your application ID during the phone call, and follow the automated prompts to re-validate your program eligibility. Although I was not required to provide a letter of eligibility, I still obtained one from LCPS for the 2023-2024 for my records. Since this is a government-sponsored program, it would serve you well to obtain a letter of eligibility for your records before renewing your application.
---
Update 18 July 2022 – LCPS enrolled students qualify under the USDA CEP. You will need a letter from your student's school confirming that they are enrolled for the 2022-2023 school year. With that letter, you can complete the validation process described further down in this post. Yay! Go #TeamLCPS
After a recent evaluation from the U.S. Department of Agriculture (USDA), Louisa County Public Schools has qualified to participate in the National School Lunch and Breakfast Community Eligibility Provision (CEP) program for the 2022-2023 school year.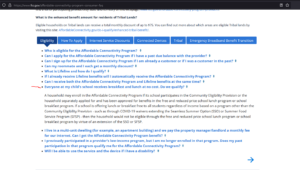 ---
Original post:
This post is going to have a hearty serving of alphabet soup, so I will decipher with each bite. The links open in a new tab so feel free to click without losing your spot here.
Our journey through the FCC (Federal Communications Commission) ACP (Affordable Connectivity Program) started back in 2021 with the EBB program (Emergency Broadband Benefit).
The EBB program was established to offset costs for technology access for eligible families, among other uses. It offset costs, for us, up to $50 a month. The EBB program ended in December of 2021 and eligible families could re-apply under the ACP program with a cost offset of $30 a month or $75 a month for families residing on Tribal lands.
Eligibility determination for the program occurred through various means such as:
Supplemental Nutrition Assistance Program (SNAP)
Medicaid
Free and Reduced lunch
And many others (see the full list here: https://www.fcc.gov/acp)
For my family, eligibility occurred through Louisa County Public Schools (LCPS) access to the US Department of Agriculture's (USDA) Community Eligibility Provision (CEP). Essentially, the CEP :
…is a non-pricing meal service option for schools and school districts in low-income areas. CEP allows the nation's highest poverty schools and districts to serve breakfast and lunch at no cost to all enrolled students without collecting household applications.
I am unsure what the 2022-2023 school year holds for eligibility, but for previous years:
As noted in A-4, families with children attending non-CEP schools will need to provide documentation to verify their child's participation in the NSLP or SBP during the 2019-2020, 2020-2021, or 2021-2022 school year. Due to the pandemic, it is likely that the last letter a family received confirming their child's participation in the free or reduced price school lunch program or school breakfast program may have been sent in fall 2019. We encourage schools or districts to consider adapting and sending the template letter as households may no longer have their eligibility status letter for the NSLP or SBP.
*National School Lunch Program (NSLP) and School Breakfast Program (SBP).
For the 2021-2022, school year, I simply wrote to LCPS' head office and asked for a letter verifying my son's enrollment in an LCPS school. I used this letter as verification of our access to the USDA CEP program when I applied for our ACP benefit.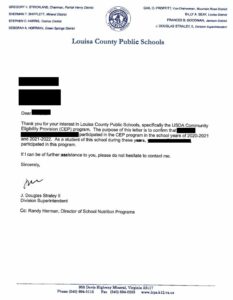 Once this was approved, I provided the ACP letter to Verizon and signed up for a Verizon MiFi device. It took two tries but Verizon provided the discount on a monthly basis since January of 2022.
You can determine your eligibility for the ACP program by visiting this link: https://www.affordableconnectivity.gov/do-i-qualify/.
For some families, you may qualify for an even better program called the FCC LifeLine. Essentially, LifeLine is a heavily subsidized program that makes your internet or telephone costs nearly free and, in some instances, really does end up being no-cost to you for internet or telephone access.
You can determine your eligibility for the LifeLine program by visiting this link: https://nv.fcc.gov/lifeline/?id=nv_home
While the government tries to do a good job at providing support, it is the government and with the government comes a lot of rules, regulations, paperwork, and often times confusion. For somebody that works in the tech industry, navigating the program for eligibility, verification, and applicability was (and still is) difficult. The government-to-private sector gap was very wide in 2021 with many telecom companies not sure how to provide their customers with the benefit. Our family was one of the first through the migration from EBB to ACP with Verizon and I remember the customer service representative telling me that I was the first customer she had trying to move from EBB to ACP.
In a call that I made today, the gap has shortened but there are still challenges. For example, Verizon told me today that I was no longer ACP qualified except Verizon is not authorized to make that decision, the FCC ACP is. In my conversation with the ACP program administrator representative, the representative said my qualification was still valid and Verizon cannot make that determination. A three-way conversation ensured and Verizon reinstated my monthly discount. So you can see there is still some confusion and gap between the government-to-private sector, but not nearly what it was this time last year.
However, I can only imagine how difficult this can be for a family with little knowledge of how to navigate this program. With that in mind, any families in the Louisa County LCPS school district that need a hand navigating this process are welcome to reach out to me and I will gladly give you a hand. I don't know all of the nuances of the program, but I can certainly help with what I know and hopefully make things a little less stressful. Remember, step one is to determine eligibility so get that started today.