This is a two-part post. In part 1, I'll explain how to replace the two forward facing blue button LEDs. In part 2, I'll explain how to replace the LED strips for amber.
Equipment used in this post:
We love our 2021 Jayco Jay Feather 24BH, but those blue front cap LEDs… wow! If you read my opening comments on the interior blue LED replacement post, then you'll know that we wanted these front cap blue LEDs gone. My wife, a big fan of amber clearance lights, thought it would look nice if we traveled with amber front cap LEDs. So I went on the search for a replacement and found PilotLights and Boogey Lights.
PilotLights stocks the "Mini-Round 3/4 LED Light 12VDC" in Amber which is exactly the type of LED light needed for the front of the travel trailer cap (and other button lights around the top and bottom as well).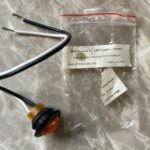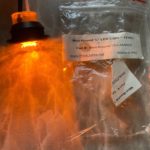 I started by gently prying the LED light out of the rubber socket. The chrome flange is decorative only.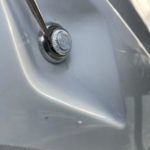 I removed the rubber socket and gently pulled the wire until all the slack had been removed.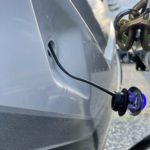 I ran into my first problem. This wasn't going to be a simple plug-n-play job like the interior bedroom LEDs. The quick connect power plugs were larger than the front cap hole. Either I needed to remove the bedroom paneling, which was a non-starter due to the way it is assembled, or find a different route.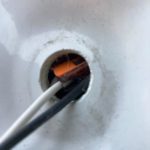 I decided that I was going to use heat-shrink butt connectors. I cut the wires from the existing wire harness ensuring that they didn't snap or retract into the front cap. I then removed the chrome trim from the existing blue LED and reassembled the trim and rubber grommet onto the amber.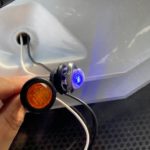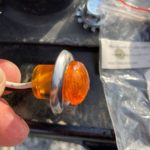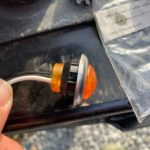 I did a quick crimp to test for functionality.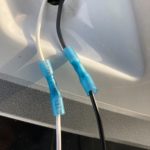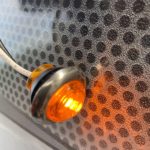 Then I shrunk the butt connectors and inserted the entire assembly into the front cap.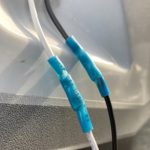 Repeat the process for the opposite LED light. One thing to note, before you press the entire unit firmly into the assembly, orient the LED "bar" to your liking.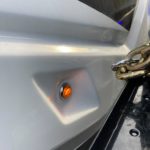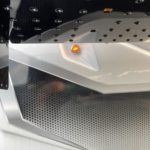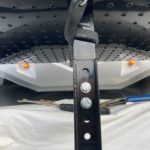 Quick and easy. All completed in under 20 minutes.
In Part 2, I'll show you how to replace the factory LED strips.